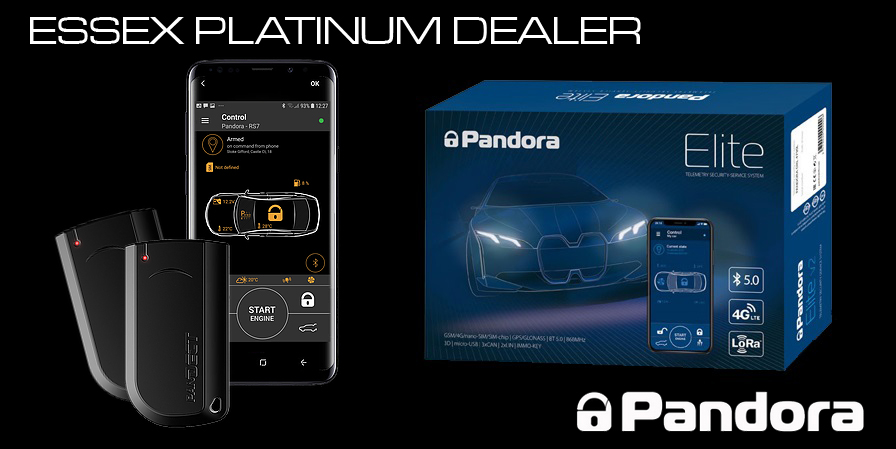 Pandora are the most advanced car alarm manufacture in the world. With the worries of key cloning and key scanning it is now the time to secure your asset with the most advanced car alarm ever made in the world. Did you know a claim is made to insurance companies every 6 minutes due to the large rise in vehicle theft, this is mainly due to keyless vehicle theft and OBD key programming. The Pandora alarm and immobiliser systems work on 868Mhz meaning the ADR tag signal can't be range extended like the original vehicle remote or code grabbed ( another form of common attack in the UK. This also means Pandora alarm models with an OLED remote like the Pandora Light Pro or Professional V2 have an excellent range. The range is improved due to them working on the 868Mhz wavelength meaning the remote can offer 2 way communication up to 1 mile away from the vehicle. This also means the tags and remotes can't be cloned by the devices thieves are using today, to either attempt copying the original 433Mhz code emmited from your vehicles key fob or key scanning attempts by extending the range from your front door. The Pandora systems use layers of security to protect you against these most common forms of attacks used by UK car thieves. This means it would be almost impossible for anyone to steal your vehicle with a Pandora system fitted. We offer a choice of engine immobilisers and 2nd immobilisers such as ones that protect the vehicles OBD port, we also have a range of wireless immobiliser modules which can be added to the Mini, Light Pro and the Smart systems to give you a security package that will be more secure than any other system on the market at this current time.. We are the only Platinum Pandora car alarm dealers located in Essex.

Be assured of getting the best customer care and installation, In Car Advancements have the knowledge unlike any other Pandora installer in the UK. Not only do we install the Pandora products we also give technical support to other Pandora car alarm dealers in the UK. To become a Platinum Pandora dealer you have to be the best in your field. This is also based on the quality of installations and product knowledge. You can be assured of the best when choosing In Car Advancements to fit your Pandora security system. Why settle for anything less than the best in the Essex area?
All models of Pandora alarm systems are now THATCHAM Approved ( excluding the Pandora Mini BT Anti Hi-Jack model )
Feel free to view our range of Pandora alarm systems and see which ones suit your requirements best.
Pandora Specification Table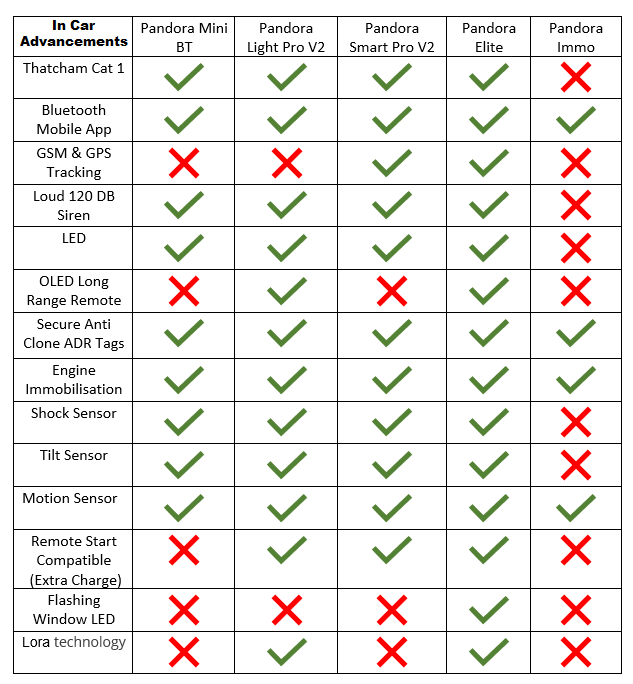 Helpful weblinks that will help if you have a Pandora alarm installed
Pandora ADR Tag Battery Replacement
Pandora emergency override code
Pandora Dual Zone Proximity Sensor Adjustment
Pandora BT Alarm Sensor Adjustment
We supply and fit Pandora Car Alarms in Essex and all local area's such as…. Basildon, Brentwood, Romford, Hornchurch, Barking, Dagenham, Ilford, Thurrock, South Ockenden, Billericay, Grays, Southend, Southwoodham ferrers, Chelmsford.