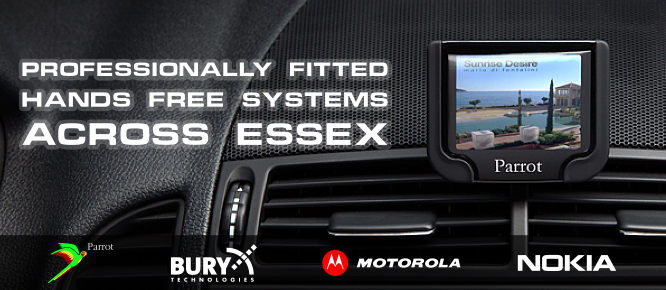 Top Quality Handsfree Installations
Make and receive call's whilst on the move legally, easily and safely with a Bluetooth handsfree kit which integrates seamlessly with your vehicles audio system.
Also look out for the new music range of kit's that combine handsfree with iPod/iPhone and USB music playback. Supplied and professionally fitted in Essex curtsey of In-Car Advancements.
At In Car Advancements we install & maintain many of high-quality, professional hands free kits for some of Essex well known companies. Our engineers are amongst the best in the business and take great pride in providing our clients with an above average service. Our installers are Parrot certified and Nokia accredited.

We also have a wide range of phone cradles which you may wish to have fitted with your handsfree, Cradles keep the phone in a safe view of the driver and keep the device fully charged.
Please be aware due to the limited request for hands free Bluetooth systems Parrot ( our main handsfree system provider ) have discontinued a huge amount of the Parrot range. As such the Parrot MKI 9200 is a current kit which is now the only system stocked by us. We still offer the Parrot Certified warranty of 2 years.
Parrot MKI Series 9200 (Full Colour Screen)
Bluetooth calling & music streaming ( 2 phone's can be paired )

The Parrot MKI 9200 are the more advanced Bluetooth handsfree system supporting dual phone pairing and full music ability such as SD card input, USB input, AUX input and Bluetooth music streaming. The Parrot MKI9200 also features a full colour screen.
We supply and fit Bluetooth Handsfree in Essex and all local area's such as…. Basildon, Brentwood, Romford, Hornchurch, Barking, Dagenham, Ilford, Thurrock, South Ockenden, Billericay, Grays, Southend, Southwoodham ferrers, Chelmsford.