Immobilisers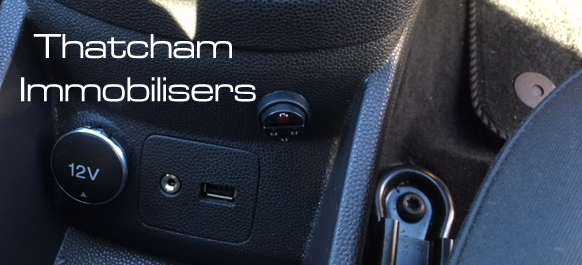 In Car Advancements have a special range of Thatcham Approved and Can-Bus Immobilisers, which stop all forms of Key cloning and Key scanning due to there more basic but secure disarm methods. Our immobilisers use a coded touch key or the vehicles buttons in order to disarm the system. Meaning unless you have the correct coded touch key or you enter a secure code via your vehicles interior buttons. You simply won't be able to start the vehicle ( even if a key is cloned ) meaning these devices offer the best security possible. These are becoming more popular on keyless vehicles for the fight against key scanning ( when a thief amplifies the vehicles key signal or attempts cloning of a new key via the vehicles OBD port ).
The Immobiliser system will automatically arm after 3-30 seconds ( Depending on if you have a Thatcham Cat 2 or Autowatch Ghost Installed ) of turning the ignition off. Meaning you vehicle will be secure every time you leave it. The Thatcham Cat 2 Immobiliser systems feature all black wiring making any wiring hard to follow / impossible to attempt a bypass.
Autowatch Ghost 2 Can-Bus Immobiliser

Latest Ghost Version Start / stop compatible.

Ability to turn off start / stop technology on some vehicles.

iPhone & Android compatible.

Secure override if required.

No wires are cut.

Even if a key is cloned vehicle won't start.

Can't be found.

Starline Can-Bus Immobiliser

Apple & Android compatible.

Disarm Via Buttons or Smartphone

Secure override if required.

Optional ADR Tag

Even if a key is cloned vehicle won't start.

Can't be found.

Pandora Immo

Works on 868Mhz ( Anti Clone )

Anti-Hijack

Secure ADR tag ( Giving an extra layer of security )

Engine start Immobiliser

iPhone App
Android App

Starline ADR Immobiliser

Disarmed via secure wireless ADR tag

Secure override if required.

Even if a key is cloned vehicle won't start.

Anti Hijack ( Optional )
Low battery drain ( 150 days from a full charge )

Laserline Thatcham Cat 2 Immobiliser

Touch key immobiliser

Two random code disarm touch keys

Pin code override facility

Automatic dual circuit immobilisation

Flashing LED

Meta ADR Immobiliser

Wireless ADR immobiliser

Touch key override
Window mount LED

Automatic immobilisation

Made in Italy
We supply and fit Car Immobilisers in Essex and all local area's such as…. Basildon, Brentwood, Romford, Hornchurch, Barking, Dagenham, Ilford, Thurrock, South Ockenden, Billericay, Basildon, Grays, Southend, Southwoodham ferrers, Chelmsford.