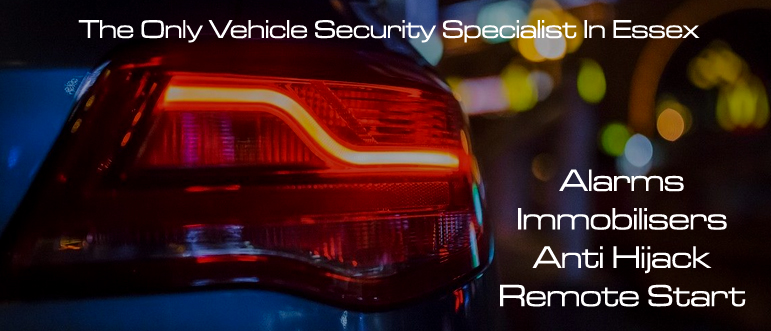 In Car Advancements offer the highest level of Car Alarms & vehicle security for Cars, Vans, Bikes and Motorhomes in the Essex area. We can offer basic alarms & immobilisers to a full Thatcham approved anti key clone & anti scan system. We are fully accredited by the security manufactures & Thatcham to fit all the products we supply. Remember Securing your investment is a must with vehicle theft at the highest level. With crime becoming more advanced by the day it is now more important to make sure the vehicles OBD port is immobilised or a system that uses secure ADR / Immobiliser tags to disarm the alarm and immobiliser this makes sure the thief is not using a cloned key to try and disable your alarm and immobiliser system.
We offer simple Car alarms from the likes of Meta and Laserline to full Pandora and Viper packages tailor made to your exact vehicle for example Audi, BMW, Ford, Mercedes, and VW giving you the edge on your vehicle security. Optional extras such as Dual Zone warn away and tilt sensors can be added for extra piece of mind. We are platinum dealers of the Pandora car alarm brand in the Essex area giving you outstanding high quality installations and excellent customer care. Remember we are fully mobile and fully insured to carry out all types of car alarm and car security installations. We also offer a wide range of Immobilisers if your not looking at having a full alarm system installed.
In Car Advancements are the only Platinum dealer for Pandora car alarms. Buying from a Platinum dealer not only gaurantee's the best installation, but it also means you will receive the best customer care possible. Your Pandora system will be set up to suit your requirements and you will be assured your vehicle is secured by the best security system in the industry. Pandora have a very wide range of products which can suit almost any requirement or budget.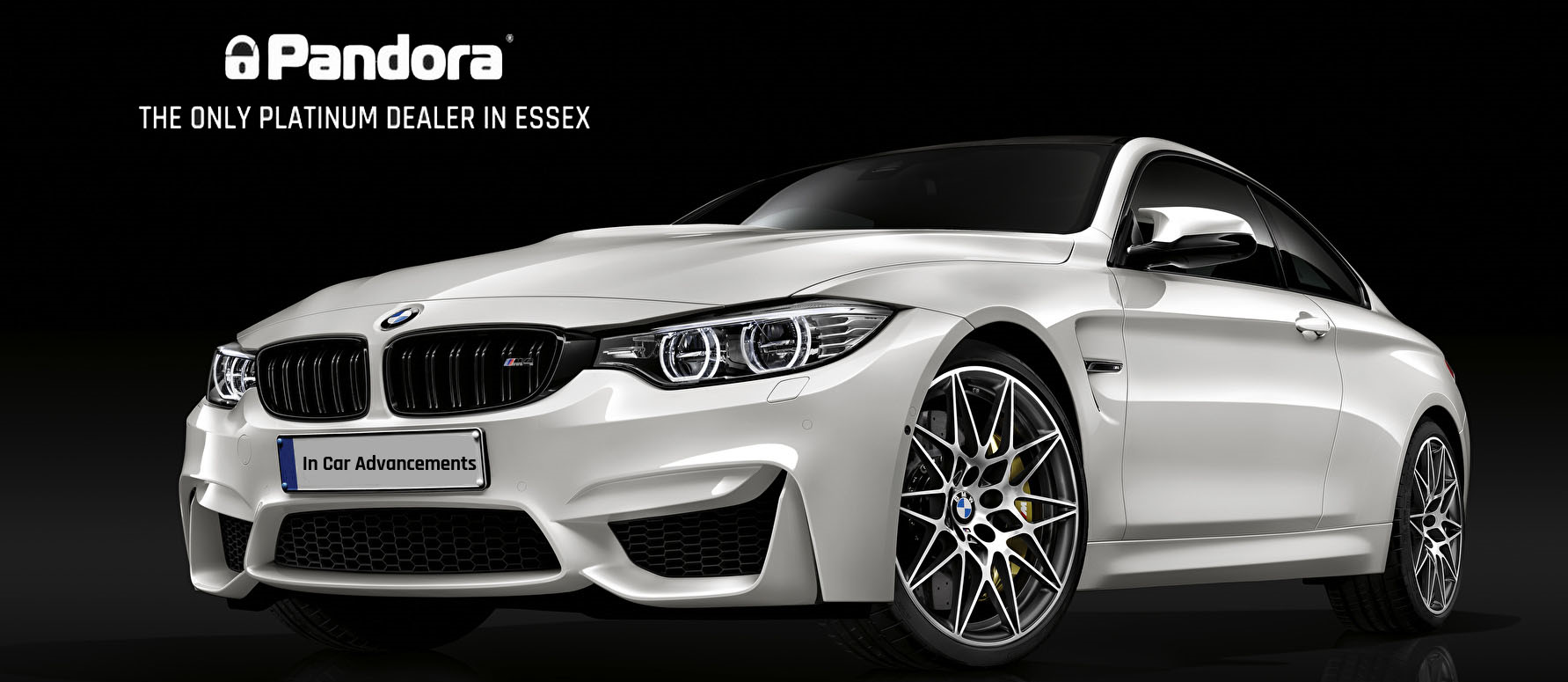 We supply car alarms & immobilisers from the leading brands Pandora, Meta, Laserline, Gemini and many more...
NEW for March 2020 the Pandora Elite which is the replacement for the Pandora Professional V2, The Pandora Elite is by far the most advanced car alarm in the world. The best part is the system is fully Thatcham approved meaning installing this device to an older vehicle will normally allow an insurance discount. The Elite offers more features, longer Bluetooth and RF range, Flashing window LED and much more!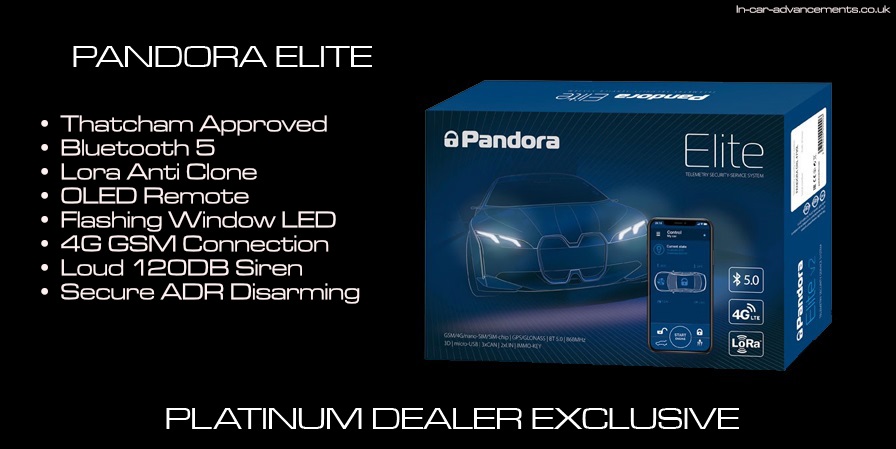 Pandora are the new market leader in the UK since coming over from Russia in 2017. They have been an industry bench mark in Russia for over 15 years and the great part about Pandora is they are constantly working on making the best security and always improving software. Pandora use anti key clone and anti key scan tech with the advanced operating wavelength of 868MHz. Giving excellent protection against any form of key scanning or key cloning attack. Pandora have a range of systems which offer superior features over any other system on the market. Add-ons such as our wireless fuel pump and PTS Immobilisers make this system more secure than any other system currently avaliable on the market today. The Pandora systems can also offer remote start and anti Hi-jack on certain vehicles giving you the full package. Pandora also offer a smartphone app which can be used to arm, disarm and remote start your vehicle via Bluetooth or via GSM on certain Pandora models. The great thing about Pandora is the massive range of products which allows you to buy a good system on a small budget such as the Pandora Mini BT or if you are feeling the extreme why not take a look at the Pandora Professional V2? Pandora prides themselves in making the lowest energy electronics for vehicles on the market today meaning you won't get low battery warning messages on your dashboard. The vehicle can be in an armed state sitting there for weeks without an issue. If your looking for an immobiliser only the Pandora Immo would be the ideal product for your vehicle on most vehicles this can also offer anti hijack.
Pandora offers you more alerts and better connectivity than any other car alarm brand in the UK. The Pandora Smart series & Elite systems offer complete knowledge of your vehicles status by simply opening the Pandora Pro smartphone app. You simply check to make sure you locked your vehicle or you can send a command from anywhere in the world. For example you could be in another country and check the history status of your alarm system or track it's exact position via GPS ( Smart Pro & Elite models. ) You can be alerted via a phone call from the Pandora alarm system in the event of an alarm trigger. The Smart Series are the most advanced telemetric alarm system in the world and with the additional wireless immobiliser blocking relays you can also have the most secure vehicle in the world.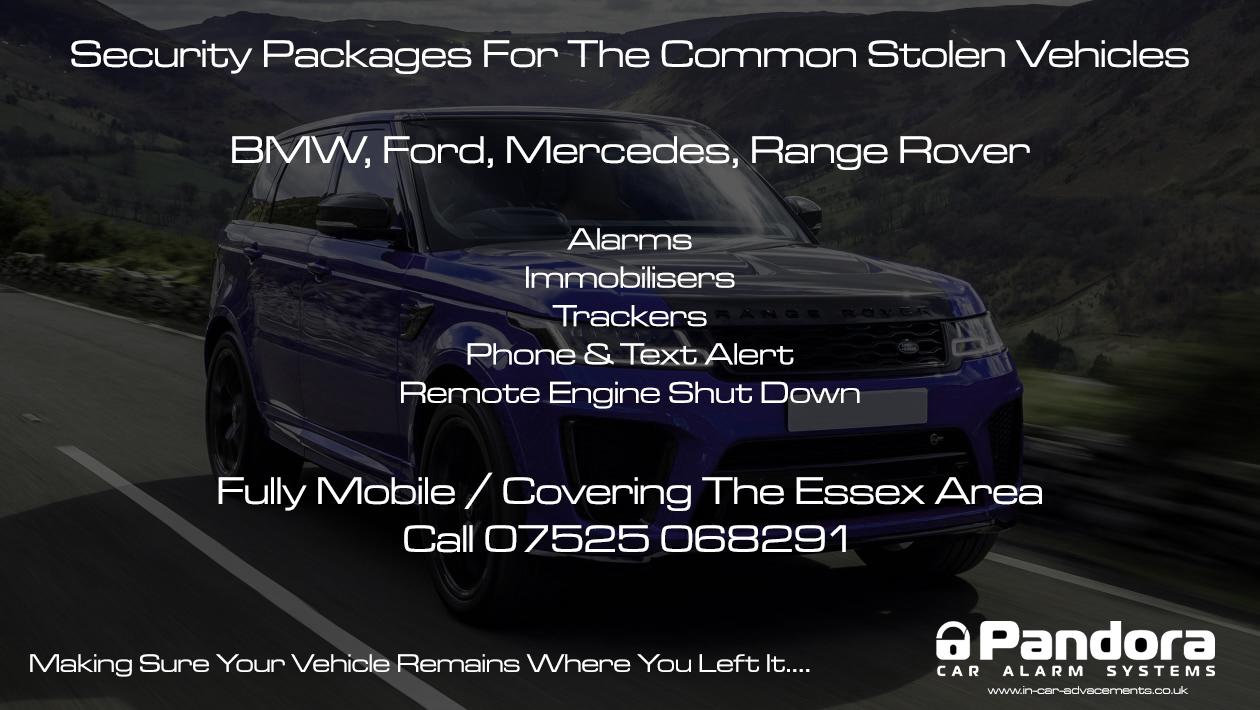 We have created security packages for the most common stolen vehicles such as BMW, Ford and Range Rover models, be confident your vehicle will still be there when you return. Our custom packages can include add on's such as OBD immobilisation, PTS immobilisation, Anti Hijack offering better security than any other company can offer in the Essex area.
Pandora Immobilser Models
Panndora alarm models
Pandora Mini BT Thatcham Cat 1
Pandora Light Pro V2 Thatcham Cat 1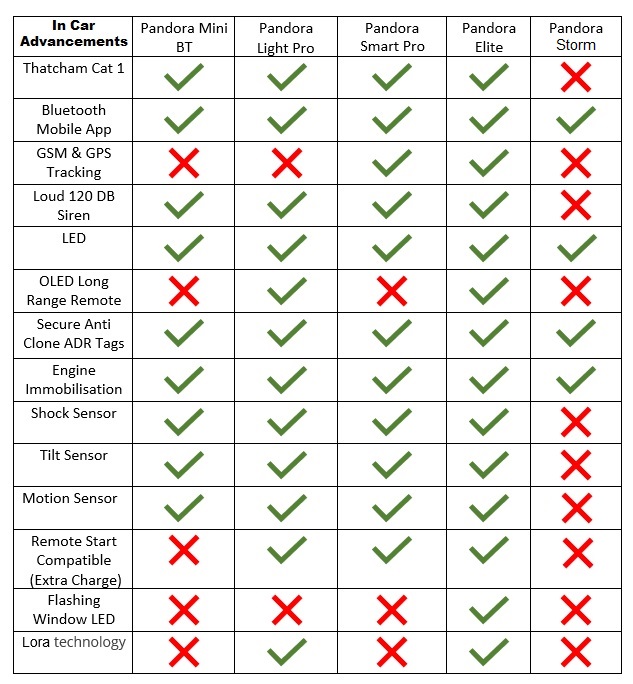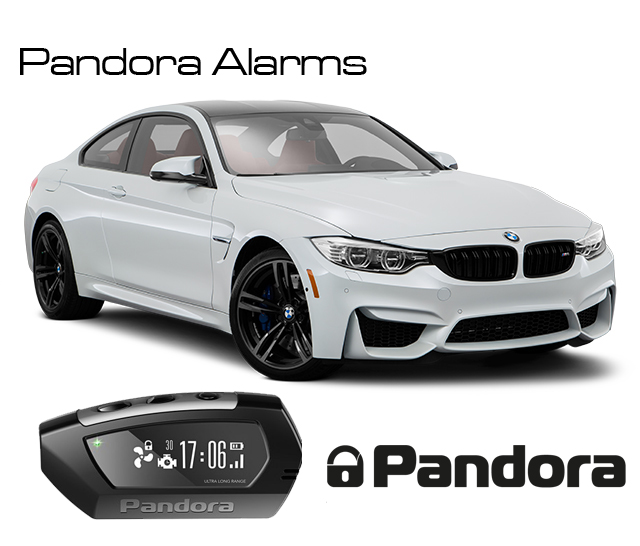 Autowatch Security Packages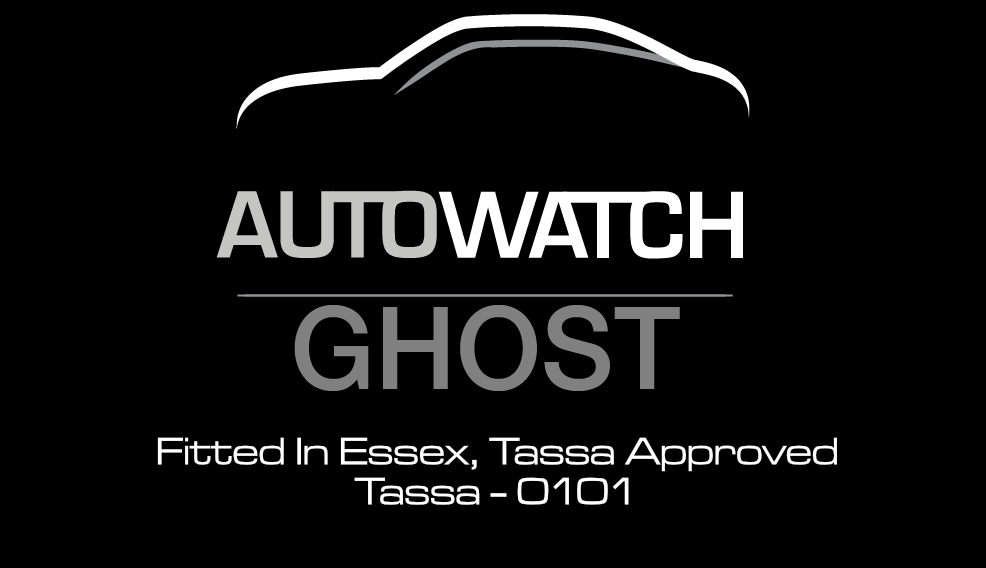 We also fit the most common immobiliser on the market right now, known as the Autowatch Ghost. The Autowatch Ghost uses a series of button presses within your vehicles interior BEFORE the vehicle will be allowed to start. This means even if the thief breaks into your house for the vehicles keys they still won't be able to get the vehicle started. The Ghost goes by many names such as the Ghost immobiliser, Ghost Alarm and Ghost Tracker. Please be aware the Autowatch Ghost 2 is an Immobiliser ONLY. We are fully Tassa approved which means you will be issued a Tassa certificate within 5 days of us completing the installation. Many insurance companies are asking for the Autowatch Ghost to be installed before they will issue an insurance policy. The Autowatch Ghost has been in the UK for well over 4 years now and it has proven itself time and time again defeating thieves before they can even drive it away. If you would like to find out more visit our Ghost immobiliser page.
Cobra / Vodafone Automotive have got there high end solution to prevent key cloning and excellent security at a good price point. The ADR offers immobilisation and security. With lots of add-ons such as our OBD port immobiliser and optional glass break and tilt sensors. The Cobra ADR has been around for years and has a proven record for keeping cars secure and offering excellent reliability. The ADR tags are designed to stop key scanning and key cloning attacks. Cobra ADR tags also have a very long battery life of 18-24 months in most cases giving you ultimate performance throughout vehicle ownership. The Cobra ADR system has been around for around 10 years now however the system does work on the older 433 Mhz frequancy. Many newer alarm systems such as Pandora and Meta are now working on the newer 868 MHZ wavelength giving a higher form of security.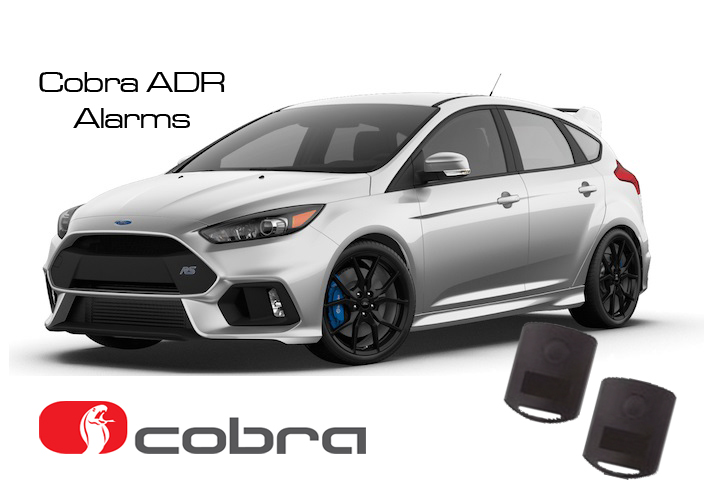 Meta produce more original fit and aftermarket manufuture approved vehicle security than any other car alarm brand in the world. The Meta Super Alarm offers outstanding vehicle protection at a good price point. For example it gives you a full alarm system which arms and disarms alongside the vehicles factory remote control, a secure 868Mhz ADR tag which will disarm the immobiliser when entering the vehicle. And it features a full GPS tracking system to get an exact vehicle location and alert you via push notification if the alarm triggers. Meta offer an outstanding 3 year warranty which gives you complete piece of mind when having a Meta security system installed.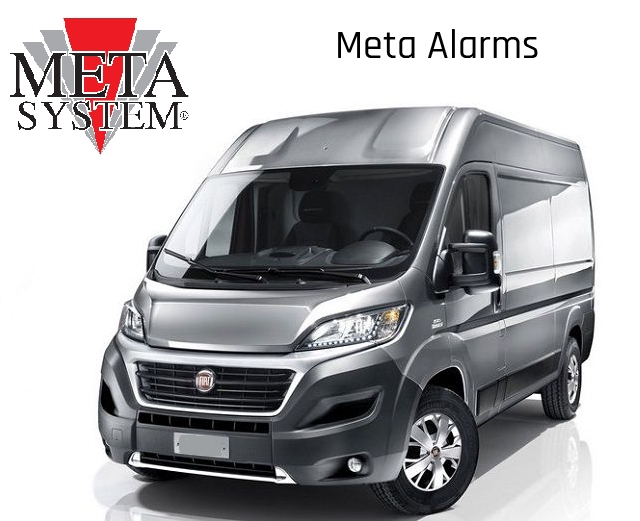 Viper have been known in the UK for many years for there excellent performance and reliability . They offer 2 way remotes which communicate both ways, meaning if your vehicle is attacked your LED or LCD remote will be alerted. The range is up to 2000ft giving you excellent coverage and piece of mind when leaving your vehicle. With lots of add-ons such as our OBD port immobiliser which only kills the OBD port when the alarm is active, meaning you can still use the port for diagnostics and remapping when disarmed. Optional dual zone proximity, glass break and tilt sensors. The Viper 2 way system comes with an LED remote control as standard but it can be upgraded to LCD at additional cost.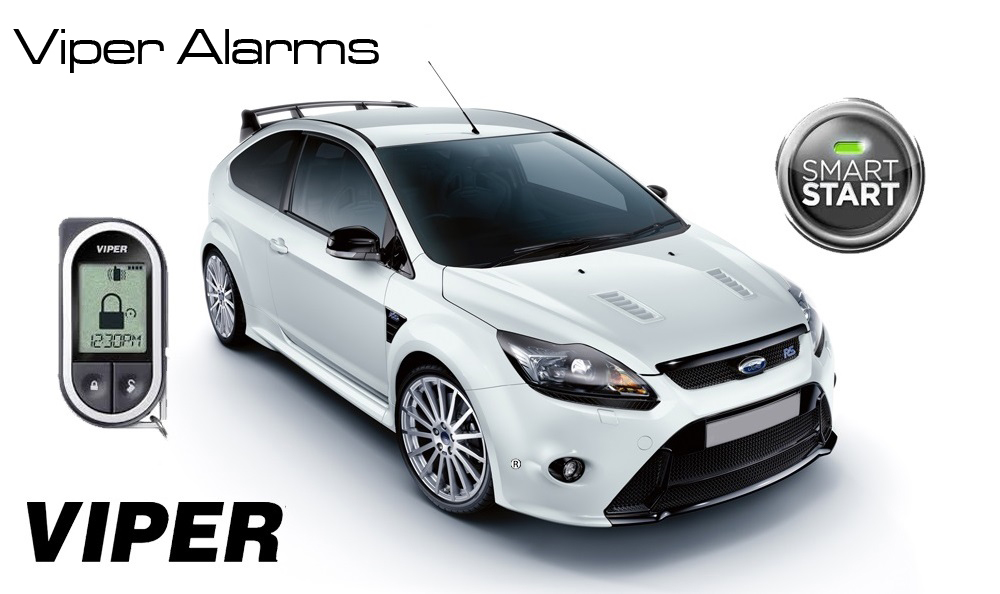 Products we offer...
Thatcham Cat 1 alarm & Immobilisers

Thatcham Cat 2 > 1 Alarm Upgrades

Thatcham ADR ( Anti Key Cloning Alarms )

Thatcham Cat 2 immobilisers

Immobilisers

Entry Level Car Alarms

2 way Car Alarms

Remote Start Car Alarms

Key Guard Systems

OBD Port Immobiliser
Vehicles we fit security products on...
Cars

Vans

Bikes

Motorhomes
Why choose us for your vehicle security requirements...
No1 Car Security Specialist in Essex

Fully Insured

Thatcham Approved

Specialist in Ford, BMW, Audi, VW, Mercedes, Range Rover packages
We supply and fit Car Alarms in Essex and all local area's such as…. Basildon, Brentwood, Romford, Hornchurch, Barking, Dagenham, Ilford, Thurrock, South Ockenden, Billericay, Grays, Southend, Southwoodham ferrers, Chelmsford.