Ford Fiesta ST Pandora Car Alarm Fitting Essex
28 March 2018 | Admin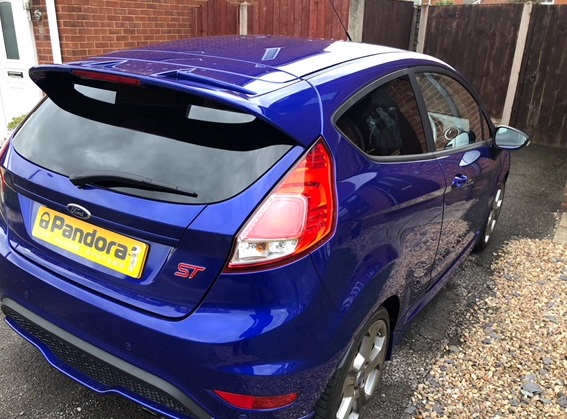 Another Fiesta ST secured by the best. Pandora have made excellent software for this vehicle and as such your able to lock and deadlock the doors on a single press of the Panodra 2 way OLED remote. The Pandora remote gives you excellent feedback on the alarm and current state of your vehicle at any time up to 1 mile away. The OLED remote gives you information such as if your vehicle is locked, unlocked, which sensor is giving the warn away bleeps, and full attack triggers.
The Pandora has full ignition immobilisation meaning once the Panodra is armed, even if a cloned key is programed into the ECU the vehicle still won't start. We have over 5 methods of immobilising this vehicle for the very best / most secure security. With the Ford Fiesta ST being one of the most common cars in the UK subject to key cloning we issue a secure override tag which sits on the vehicles key ring. ( This can't be cloned like the Ford remote ).
The alarm HAS to see this tag in order to fully disarm the system. The Pandora can be armed and disarmed via the original Ford remote providing this tag is in range. You can also add warn away to this system offering the ability to detect movement by the drivers or passenger window glass when the alarm system is armed. unlike other brands Pandora offers the most secure system on the market unlike other brands which don't have the correct software for these vehicles.
If you would like a Pandora Car Alarm fitted to your Ford Fiesta ST or another performance hot hatch such as a Ford Focus RS. Give us a call on 07525 068291.