Ford Focus RS Pandora Alarm Fitted Essex
6 January 2018 | Admin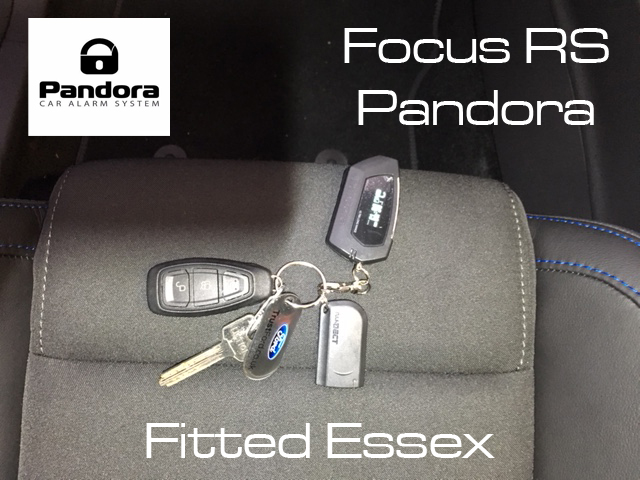 The Pandora is being the system of choice for Focus RS owners, With the advanced features such as activating deadlocking from the Pandora remote control this system is fully packed with features. As standard this system offers an OLED remote control which gives you up to 1.5 mile range away from your vehicle, Secure Immobiliser tag / ADR tag. Protection for doors, boot, bonnet. Shock sensor with 2 stages ( known as dual zone shock ) and tilt and motion sensor giving excellent protection of the wheels and tow away attempts.
You also have the ability to add on a dual zone proximity which gives you the ability to know if someone walks up to the drivers or passenger window glass ( Alerted via chirps from the siren and via the OLED remote pager. ) On this vehicle we done an additional immobiliser cut of the vehicles OBD port meaning if a thief was attacking the vehicle it has our ultra secure ignition immobiliser and the OBD port will not work meaning no keys can be cloned into the vehicles ECU. When disarmed the vehicle can be started and the OBD port can be used for remapping or diagnostic work.
A list of features the Pandora offers on the Focus RS....
Protection of doors, boot, bonnet

Dual Zone shock sensor

Tilt and motion sensor ( Protects wheels / Tow away )

OLED up to 1.5 mile range remote

Secure disarm immobiliser / ADR tag

Loud 118db siren

Complete 2 way control

Bluetooth Pandora App

Ignition Immobiliser as standard ( Most secure on the market )

Ability to add an additional OBD port immobiliser

Ability to add a Dual Zone proximity sensor
In Car Advancements is the only Pandora Approved dealer in the Essex area. Visit our Pandora Car Alarms page or call 07525 068291.