Range Rover Vogue Pandora Mini BT Fitted Essex
24 September 2019 | Admin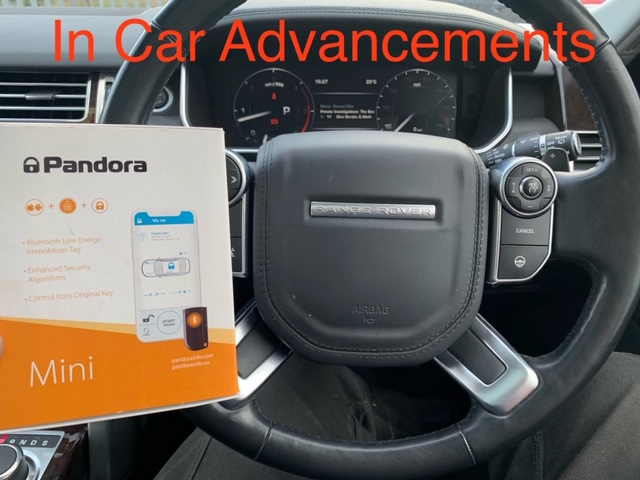 With the Range Rover Vogue being in the top 3 stolen vehicle list it makes sense to get your vehicle secured. This customer already had his window smashed in order for the thieves to clone a new remote key into the vehicle. Luckily for the customer the thieves could not clone a key into this vehicle for some unknown reason. The customer wanted to upgrade the immobiliser but also wanted to upgrade the alarm system also. The shock sensor plays an important part of this alarm system if the window was to get a harsh impact such as a brick hit it the alarm would sound instantly. The Pandora Mini protects all doors, boot, bonnet for the best protection. The Mini BT also has onboard sensors such as tilt which protects the alloy wheels on the vehicle and a motion sensor which detects the vehicle being dragged along.
The Pandora Mini remains armed unless a secure ADR tag is within range of the vehicle. For example the vehicles original key is cloned, the thief would press unlock but the siren would give no chirp / just stay completely silent, if after 15 seconds no ADR tag is detected or the ignition is switched on the alarm will instantly sound. During this period the Pandora Immobiliser is always active / won't allow the vehicle to start giving complete security. The Pandora ADR tag also goes to sleep after 5 mins of no movement meaning even if the keys were close to your vehicle on your driveway the Pandora will remain armed for the best security possible.
The Mini can be installed on this vehicle in such a way the customer wouldn't even know a security system has been installed. This means having a security system doesn't change the look or feel of your vehicles interior. Also we can install the system without drilling a single hole within the interior or engine bay, this is ideal if you wish to remove the alarm before handing the vehicle back to Range Rover in the future.
With Range Rover being the most common stolen vehicle it makes sense to get yours secured. Why not give us a call today ( the only platinum Pandora dealer in Essex ) to get your Range Rover secured on 07525 068291.