Pandora OBD Wireless Immobiliser
6 April 2020 | Admin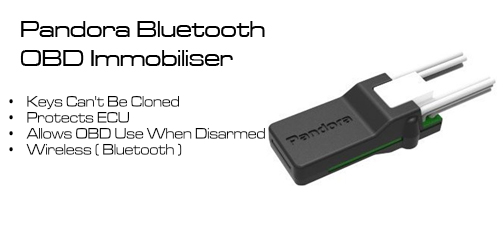 The Latest add on from Pandora giving you more layers of protection when having a Pandora alarm installed. With more and more stories of theives attempting to clone a key via the OBD port and it failing to program and in many cases crashing the CAS unit ( very common on BMW ). We have also heard of this on VAG vehicles causing £1000's of damage to the vehicles electronics. With this tiny add on being wired in it will make the fears of thieves attacking the OBD port a thing of the past. This completely wireless OBD port immobilser is wired into the wiring harness and the device is so tiny it makes it almost impossible to detect ( Smaller than the common Autowatch Ghost ) It talks to the alarm system via Bluetooth meaning even if the main alarm unit is found thieves can't trace back any wiring to this additional OBD immobiliser.
We program this device in such a way it only immobilises the OBD port when the alarm is armed. and it will disarm / allow the OBD port to work when the alarm is disarmed and an ADR tag is within range. This means main dealers and Engine ECU remaps can be carried out without any problems.
This is designed to work with all the latest Pandora systems such as the Pandora Mini V2, Light Pro V2, Smart Pro V2 and the Pandora Elite.
Is this add on needed with every Pandora alarm installation? No not at all. This is ideal for German vehicles such as Audi, BMW's, VW. However owners of many vehicles such as Fords and Range Rovers are so worried about there vehicles they are happy to add another layer of protection. Remember the best security systems are about having layers of protection rather than one. If you would like to add this device onto your Pandora Car Security System why not give us a call on 07525 068291.