BMW 5 Series G30 Pandora Mini BT Fitted Essex
6 April 2020 | Admin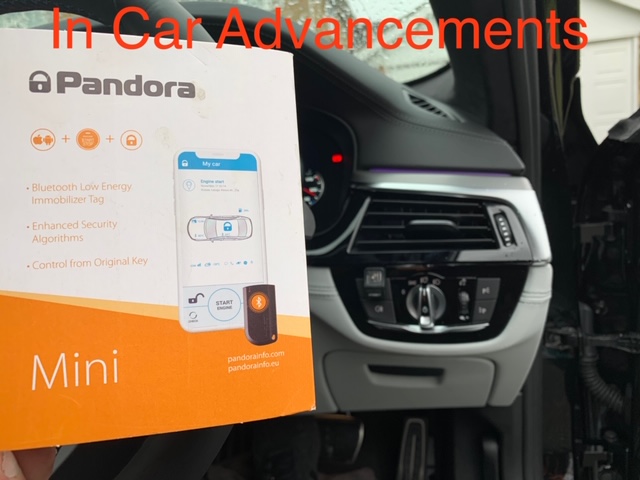 FACT... In Car Advancements was the first dealer in the UK to install a Pandora Car Alarm on to the brand new G30 5 series released in the UK late 2017. The 5 series G30 is an absolute beast and many owners are worried there vehicle will be stolen due to the advanced methods thieves are using to steal the brand new BMW models. As such owners are looking at aftermarket security to protect their new BMW, the Pandora Mini offers all the protection you would need. The system uses a small ADR tag which sits on the vehicles keys or a neck layard for example. This tag has to be within range to allow the alarm to disarm and turn off the immobiliser. Without this tag the system will simply remain in an armed state and the alarm will trigger if a tag is not detected within 12 seconds.
The Pandora ADR tag gives you complete protection against key scanning and cloning. The ADR tag also goes to sleep if no movement is detected meaning even if the tag is left close to the vehicle it won't disarm the alarm and the immobiliser will remain active. The system also features many other layers of protection such as covering the bonnet, doors and boot. It has 4 on board sensors which are the Dual zone shock sensor which detects medium and harsh impacts to the vehicle, Tilt sensor which is designed to detect jacking up or tilting of the vehicle. Motion sensor is designed to detect dragging or towing of the vehicle. If any of the sensors are triggered the alarm will fully sound.
On this vehicle will also activated and wired the Anti hijack in which means when the vehicle is in motion the Pandora alarm is looking for the Pandora ADR tag. If for example the tag leaves the interior when the vehicle is in motion the alarm will count down and immobilise the vehicle on motion via Can-Bus. This will only kill the vehicle when it is safe to do so, the alarm knows by detecting speed and engine RPM.
If you would like a Pandora Alarm installed on your BMW 5 series G30 look no further. We have the perfect package to protect your vehicle, call 07525 068291 to find out more.