VW Polo GT Rear Parking Sensors Essex
21 June 2017 | Admin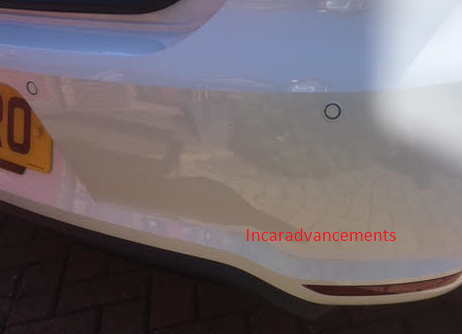 The VW Polo 5 door GT is a stunning car with the updated styling it really does look the part. However the vehicle does lack parking sensors. This is where In Car Advancements can step in and provide OE approved Cobra parking sensors, which as you can see from the above image look extreamly smart and you don't have to worry about main dealer warranties being effected by fitting parking aids once the vehicle has left VW.
These rear sensors are the very sleek due to them not even being raised from the bumper by 1 mm. They are 21 mm in size and they look very neat once fitted onto your bumper. These sensors had to be colour matched to the exact colour of the vehicle. This makes them look like they was installed when the vehicle was made.
The buzzer / speaker on this vehicle was hidden behind the vehicles carpeted trim inside the vehicle to allow a nice sleek installation, when the customer sells the vehicle no one would know these are not original fit even the VW main dealer. We provide parking sensors for all makes and models of vehicle, why not give us a call on 07525 068291.