VW Caddy Pandora Mini BT Fitted Essex
4 December 2019 | Admin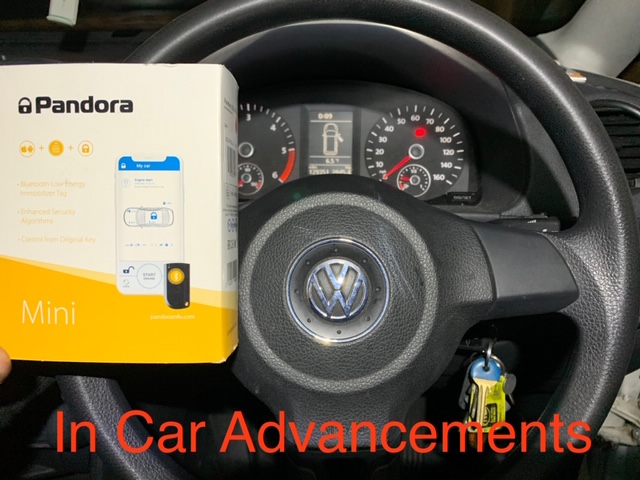 VW Caddy now fitted with the Pandora Mini BT offering excellent security which offers full protection against key cloning and key scanning. This system works perfectly alongside the original vehicle remote control providing the Pandora ADR tag is within range. This tag is designed to keep the immobiliser and alarm armed unless a tag is present. The system comes feature packed with sensors which include a dual zone shock sensor detects impact, tilt sensor designed to protect your alloy wheels ( detects lifting / jacking ) and the system comes with a 3D motion sensor which will allow the alarm to trigger if its rolled off your driveway.
The system protects all doors all the way round the vehicle and the bonnet, the system also features a loud 118db siren which will sound the warn away if the first zone of the shock sensor is triggered, it will sound at a full 120db if a main alarm zone is tripped. We also configured anti hijack on this vehicle meaning if a tag leaves the vehicles interior the Pandora Mini will start the anti hijack countdown, once this timer has expired the alarm will completely shut the engine down. You will not be able to restart the engine unless a secure Pandora ADR tag is back within range.
This system linked to this vehicle also allows the Bluetooth app to lock and unlock the doors through Can-Bus which is very good if you wish to active handsfree locking on the Pandora system. The Pandora smartphone app also allows you to make changes to the alarms onboard sensors for complete ease of use.
The Pandora Mini BT is by far the best security system for this vehicle due to it integrating perfectly with the can-bus system on the vehicle. Unlike other systems this is also the most secure because even if a thief grabs your remote control signal over the air they still won't be able to disarm the Pandora system giving total security. We are fully approved and Platinum dealers of the Pandora car alarms so why not give us a call on 07525068291 to get your vehicle booked in today.