Renault Trafic Slam Handles Fitted Essex
4 July 2018 | Admin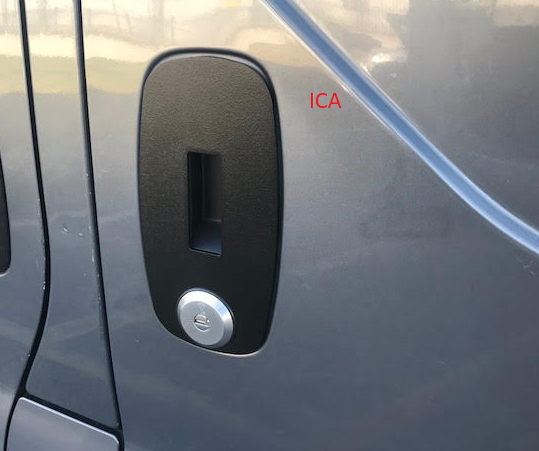 The Renault Trafic and Vauxhall Vivaro vans can suffer from the common rear door handle attack method. This is where the vehicle is locked or deadlocked and a thief attacks the rear handle ( by yanking the handle upwards ) this breaks away the factory plastic nuts holding the handle in place. Once the rear handle is removed they will put there hand in to release the rear interior handle release rod ( far back left ). Once this has been pulled the door will simply pop open allowing the thief to empty your vehicle ( normally without making a sound due to most of these vehicles having no factory alarm ) You can see if your vehicle has the factory alarm by looking at the interior light and if it has 2 small black sensors ( one either side ) it has the factory alarm.
Our customers vehicle was attacked with the original handles and as such wanted the most secure upgrade possible. These solid metal handles are such a good upgrade and offer outstanding performance against an attack. We also install a solid metal plate behind the door skin meaning if an attack is carried out to the side of the solid metal handle they still won't be able to bypass the original locking system. Offering excellent protection against the most common forms of attack to this vehicle.
These locks automatically lock every time the vehicles door is closed meaning you can never forget to lock your vehicle. These are also ideal for parcel delivery drivers when they are constantly opening and closing the vehicles door. If you would like the replacement slam handles installed why not give us a call today.