Pandora Eye Upgrade Ford Transit Custom
12 December 2019 | Admin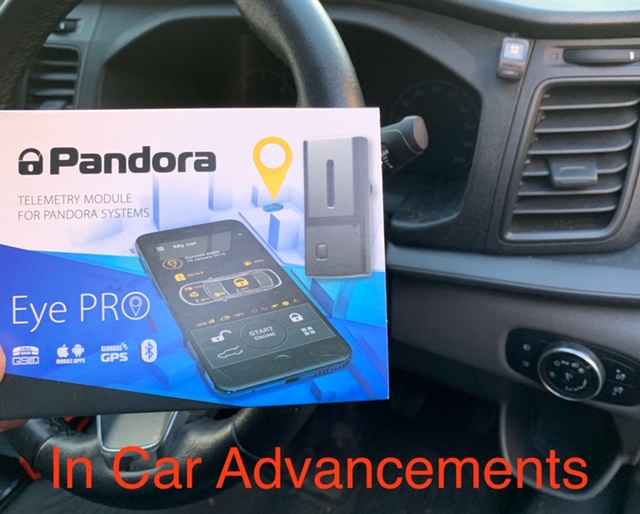 Have a Pandora Mini or Pandora Light Pro installed? This is the perfect upgrade for this system, it allows you to add GPS tracking, GSM phone alerts such as phone calls & texts if your alarm triggers or the vehicles battery is low. The GPS tracking is very detailed allowing you to track the exact vehicle location along with previous routes the vehicle has taken with the exact times the route started & finished. The Pandora Eye is perfect if you couldn't afford the top end Pandora systems when you originally had your system fitted. The Pandora Eye gives you the same functionally as the Pandora Smart Pro ( however it won't allow you to change the alarm shock, tilt or motion over GSM, meaning you would need to use the Bluetooth app when within range. )
The Pandora Eye is also much more secure by being completely separate from the main alarm control unit. And it features back up batteries inside meaning if the main vehicles power is disconnected the system will stay running / ping updates on location. This really is the number one add on for any Pandora mini or light pro alarm system. This system comes with 6 months free subscription when installed. After that period it is £100 per year. The subscription is to keep the Sim card within the unit live and active ( giving you the tracking and phone notifications ).
Please be aware the Eye doesn't give you remote start. It will only allow this function if you had a light pro fitted with remote engine start. Adding this device will allow you to remote start & lock / unlock if it can already be done through the Bluetooth app. If not then the Eye simply won't allow these features to work. Having the Eye installed onto your Mini BT or Light pro is the best upgrade you can possibly get and it gives great piece of mind knowing you are always connected with your vehicle. This system also allows you to remotely shut the vehicle down via your phone ( GSM ) if required ( hijacking attempt ), You have to phone to alarm system to do this.
We are Platinum dealers of the Pandora brand in the Essex area giving you outstanding installations and complete piece of mind with our 3 year warranty on all installations. Call us today on 07525068291.