Hornet Maxx1
16 August 2015 | Admin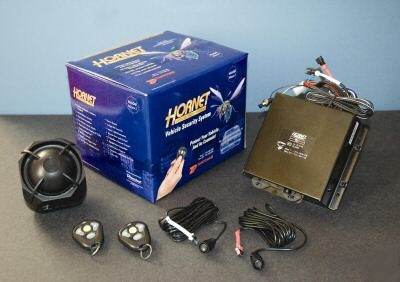 The most popular budget Thatcham Cat 1 the Hornet Maxx1 is made by Clifford. This system was almost the same as the Toad AI606 in many ways and with the quality of Clifford components it was a Thatcham Cat 1 that was missed in the UK after Armour automotive stopped offering Directed products. Now its back with a punch and it offers the most advanced security on a budget. Being a full Thatcham approved cat 1 it offers all the normal features such as a full battery back up siren and offering a protected ECU by a steel case enclosure.
The alarm has full interior protection via the black ultrasonics which are mounted within the vehicles interior to detect movement. The remote controls are nice and sleek offering lock & unlock along with boot release and panic alert. Boot release buttons are normally found on more higher spec systems but they haven't missed any features on this alarm.
This system also has an emergency 4 digit pin code which is entered via the ignition barrel, this means if your Hornet Maxx1 alarm remote fails due to a dead battery or you have lost your keys you can still turn off the alarm and turn off the immobiliser by entering a secure 4 digit code. The system also has a pet mode meaning you can leave your pet inside the vehicle without the alarm triggering. This mode means the doors, boot and bonnet are protected but the interior trigger zone is turned off.