HGV 4 DVR Camera System Fitted Essex
28 July 2016 | Admin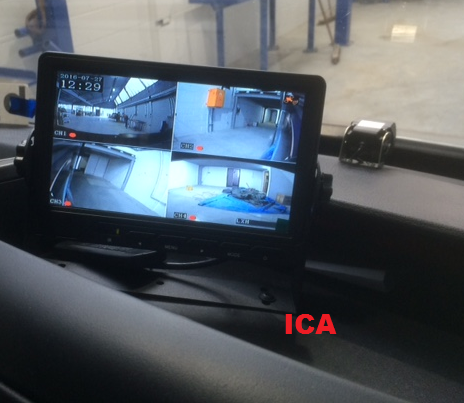 In Car Advancements carried out a very high spec accident camera installation on a HGV vehicle, This consisted of 4 camera's being mounted on the vehicle. 1 front facing camera which looks directly out the window screen. 1 rear facing which doubles up a reversing camera when reverse is selected. and 2 camera are mounted each side on the front wings.
The camera's are very cleaver in the way they switch between a quad image of 4 cameras. When a left or right indicator is pressed for that side the system displays just the image for that side. So for example if your in London and a bike is sitting beside you and your turning you will be able to see them.
This system records onto a 1TB harddrive which is locked by a key so it can't be tampered with. If in the event of an accident the hard drive can be unlocked and removed. Once you have taken it out a USB lead is used to upload the data to your computer.
The Harddrive will store all data when the vehicle is running, it has 1TB of total disc space and this means around 8-10 weeks of recording time if the vehicle is used around 8 hours per day during a normal working week.
We can install these systems for your Van or HGV and these are normally required if the vehicle goes into London. We are fully mobile in the Essex area, if you would like any further information please contact Sales@in-car-advancements.co.uk