Gemini ADR
12 May 2017 | Admin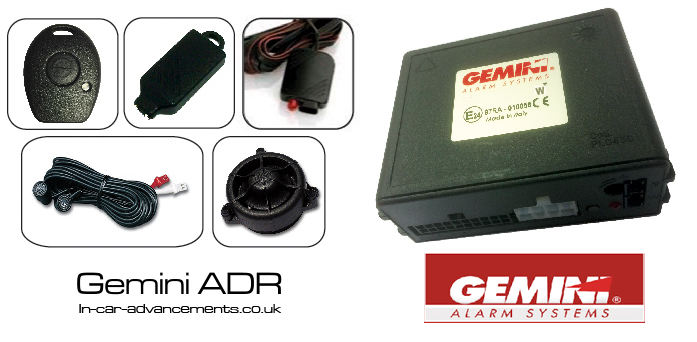 In Car Advancements are always one step ahead of the car thieves. With so many keyless cars being targeted by the '' Relay Attack '' it is now very important to think about adding ADR security onto your vehicle. ( The '' Relay Attack '' Is where a thief holds up a range extender to your front door and extends the range of your keyless smart key. Your vehicle thinks your standing next to it ) this type of simple attack is NOT possible with the Gemini ADR system. The system comes with an ADR tag that sits on the vehicles keyring. Unlike your standard vehicle smart key that transmits every 1 second the Gemini tag goes to sleep after 10 mins of no movement meaning the range can't be extended or cloned in any way.
In Car Advancements have put together this perfect package for all Can-Bus vehicles ( 2006 onwards in most cases )
What does the Gemini ADR system offer?
Protects Doors

Protects Boot

Protects Bonnet

Loud 118DB siren

1 Touch key ( used in emergency if ADR tag battery gets low )

1 ADR tag ( sits on vehicles key ring )

Immobilises the vehicle from starting if no ADR tag is in range / detected
Why choose this system over any other systems on the market? The Gemini is the next generation of ADR technology that goes to sleep when its not being used, this puts a full stop on key cloning, grabbing and range extending. This system can be programmed for the most common stolen vehicles on the market such as Ford Fiesta Zetec / ST & Ford Focus ST / RS and many other vehicles.
In Car Advancements is always giving customers the best and most effective protection for there vehicles. We are fully approved Gemini dealers and fully mobile offering installation throughout the Essex area. What a Gemini ADR call Dave on 07525 068291.