Ford Transit MK7 Deadlocks Fitted Essex
8 March 2017 | Admin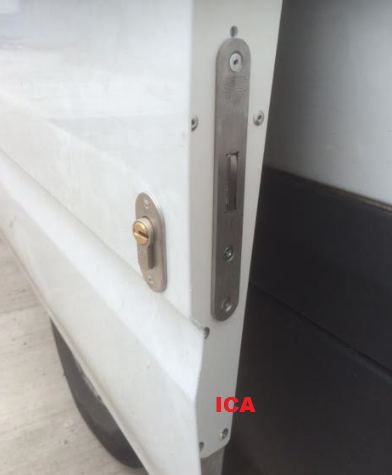 If you own the Ford Transit MK7 2006 > 2014 you should be aware of the major security issues and flaws in the standard Ford locking system. The Ford Transit MK7 can be opened with a lock pick purchased off the internet for as little as £14.99. Now is the time if you haven't become a victim already to get your Ford Transit MK7 secured.
We offer many types of security packages for these Transits such as Deadlocks, Drivers door lock upgrade and alarm systems which are designed to work perfectly with your vehicle. With the above vehicle we fitted the high security Thatcham approved Deadlocks with the sliding door re-inforcement plate which strengthens the sliding door. These Deadlocks were fitted to the sliding door and the rear barn doors for maximum security.
When the holes are cut into these doors we fully rust proof all the holes and we remove all the swarf from the doors giving you an excellent finish and no worry about rust appearing in the future. All our deadlocks are made and designed with the Ford Transit MK7 in mind. Meaning all the brackets and fixings are a perfect fit.
If you would like Thatcham approved Deadlocks or any other form of security added to your Ford Transit MK7 between the years of 2006>2014 give us a call on 07525 068291, we are fully mobile and come to you in Essex.