Ford Focus ST MK2 Pandora Immo Fitted Essex
9 July 2019 | Admin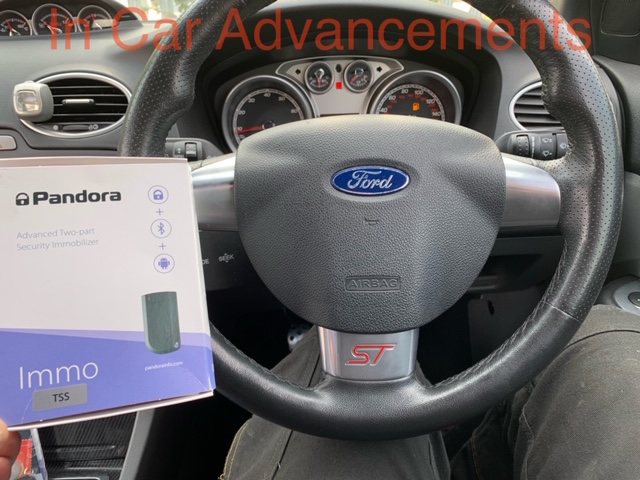 With thefts being very high for the Ford Focus ST & RS MK2 models owners are still doing what they can to secure there vehicles. For customers on a budget but wanting nothing but the best the Pandora Immo offers superior security over the rest. The Immo offers complete engine immobilisation and it also offers anti hijack to give you added protection if your removed from the vehicle by force. Once the Immo detects the tag has left the vehicles interior the system will start its 30 second anti hijack countdown before shutting the vehicle down. These MK2 Focus ST & RS models are normally stolen by cloning a new key in to the vehicle by using the OBD port or the Can-bus wiring which can be located at many points around the vehicle. The Immo remains unaffected through these forms of attack and will keep your vehicle secure.
The Immo is an invisible immobiliser due to no wiring to follow back from an LED for example. The only part which is installed which alerts you is the ultra small buzzer which is also loomed into the vehicles harness. Due to the tone it is very difficult to work out where the buzzer noise is coming from within the vehicles interior. The Immo offers 2 small ADR tags which offer complete hassle free operation. The CR2032 batteries within these tags last between 6-8 months meaning ongoing running costs are very low. New batteries can be brought from the likes of a supermarket, or online. We only advise using Duracell or Panasonic for the best product performance.
We are fully mobile in the local Essex area offering a fully mobile security installation for your Focus ST or Focus RS MK2. We are the only Platinum dealer in the Essex area offering outstanding installations and excellent customer support. The Pandora Immo offers the best security at this time in the current market place. We also offer full alarm systems for these vehicles such as the Pandora Mini BT which offers a full alarm and the same immobilisation features as the Immo. Give us a call on 07525 068291 to discuss your security requirements.