Difference Between Thatcham Category 5 And 6
13 April 2016 | Admin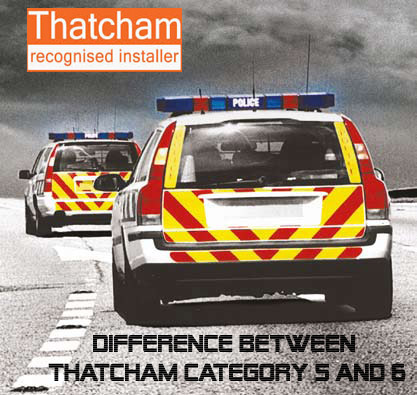 Getting the correct device for your vehicle can become a mine field. Insurance companies are sometimes confused by what category is really required for your exact vehicle. Some insurance companies won't even insure a Range Rover without a Thatcham Category 5 device due to the high chances of it being stolen and never recovered. Insurance companies are normally requesting a Thatcham category 6 even for Ford ST models. This means they won't insure your vehicle for theft unless you have a thatcham approved tracking device installed.
The Difference between Thatcham Category 5 & 6 are listed below.
Thatcham Cat 5.
The highest spec in stolen vehicle recovery, normally fitted to vehicles exceeding the cost of £90K. But in some locations up and down the country they will request one of these devices even for vehicles exceeding the cost of £50K. Thatcham Cat 5 comes with ultra secure encrypted cards which the tracker ''looks / searches'' for every time the vehicles ignition is turned on. If no card is found when the vehicle is driven an alert will be sent and the customer will get a call instantly. Another step forward in these devices is the starter motor immobilisation which means the vehicle can be immobilised to stop a high speed police chase. The Thatcham category 5 units come with the higher spec police rating meaning the vehicle has the chance of a faster recovery over a standard Thatcham Cat 6 unit.
Thatcham Cat 6.
The most common device in the UK. These devices are the normal everyday system that keeps your insurance company happy. The major difference is the systems feature no forms of ADR card which means the vehicle has to be phoned in if its stolen with the keys. The system still has tilt and motion meaning if it is dragged or towed it will still send an alert. The vehicle is monitored 365 days a year 24 hours per day exactly the same as Thatcham Cat 5. The Thatcham Cat 6 trackers have no form of immobilsation meaning the vehicle can't be shut down or stopped in any way. The Thatcham Cat 6 units also have a slightly lower police response than Thatcham Cat 5. But the good news is the average vehicle is phoned in and recovered within 15-21 mins. That is outstanding from being stolen to being found in that small window of time. The subscription costs are more affordable starting from £130 per year.
We install Thatcham Approved Thatcham category 5 and 6 stolen vehicle trackers in Essex and all local areas. We are fully trained by each manufacture and fully insured to carry out your tracker installation at your home or workplace.