Citroen Berlingo Rear Door Peeling
10 May 2020 | Admin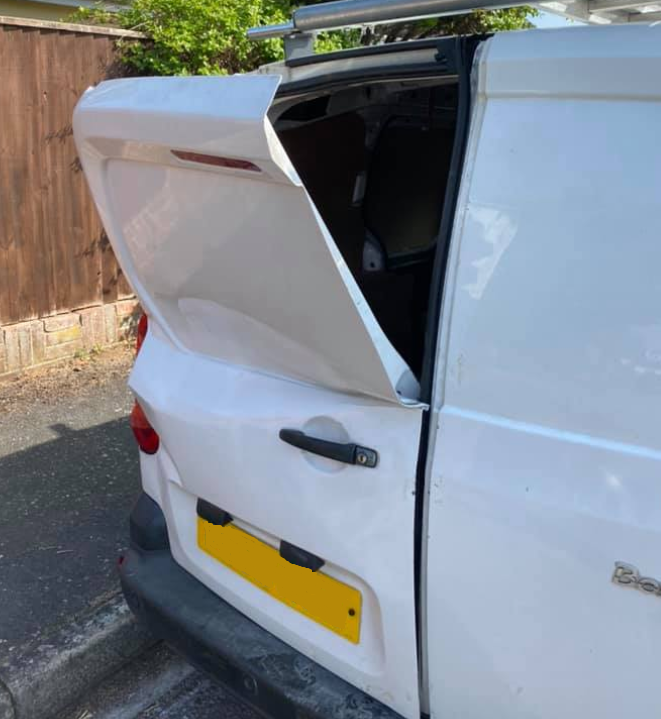 This method is becoming more and more common in Essex and local areas due to it being a very quick way to empty the van and not setting off the factory alarm ( if fitted ). Due to vans having to meet CO2 requirements by the government the manufactures of these vans have been forced to make the vans lighter in weight, to meet this requirement the panels and doors are using very thin metal. This metal can be bent very easily and it's made worse by the body lines due to that creating a weak spot in that area. As such van thieves will simply grab hold of the door at the top and pull with their weight in order to bend the door away from the bodywork. This attack method was first seen on the Transit & Transit Custom but it is becoming more popular as a quick break in method on any van.
Due to the thieves knowing this method won't trigger a factory alarm its also the best method. We always recommend adding a microwave sensor to any of our van alarms that protects the load area of the van. Meaning if anyone does bend a door the alarm will trigger on any form of movement giving you the best notice when someone is attacking your van. Fitting deadlocks is also a good idea however on the Berlingo vans they sit lower down on the doors not giving the best level of protection. The Deadlocks can't be mounted high due to such little room at the top of the doors unlike other vans like the Ford Custom which can almost be mounted at the top of the door to give the highest level of protection.
We would recommend our Meta Citroen / Peugeot approved alarm system for this vehicle which is designed to plug into the factory BSI. We then program the vehicle to accept this alarm system and paired with a 120DB battery back up siren it makes a secure and effective alarm system. This system works alongside the factory remote and will NOT disarm from the factory door cylinders in the drivers, passanger and rear barn doors meaning the only way it can be disarmed is via the 3 button original remote or the emergency pin override code.
If you would like a Meta alarm system installed call us today on 07525 068291. We specialise in Citroen and Peugeot vehicle security offering packages like no other dealer on the market.