Car Alarm Glass Break Sensors
2 January 2016 | Admin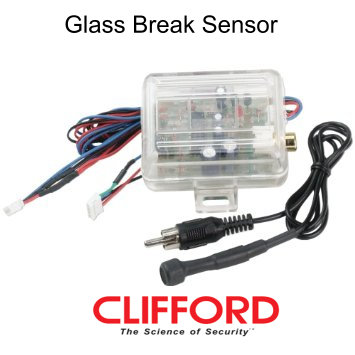 Confused if you need to add glass break onto your vehicle security system? With glass break sensors being an add on for many car alarms in the UK market place. Customers normally ask do they really need them if the alarm comes with ultrasonic sensors as standard. From personal experience I would say glass break sensors are worth while if the ultrasonic sensors are mounted in a poor position. By this I mean while the A-Pillar trims are mounted far back in the vehicle and the door glass has a small blind spot. This is a very common problem on many cars as standard.
With adding a glass break sensor to your security set up it gives you an instant alarm trigger even if the glass cracks. This is a great sensor due the sensor only listening for glass breakage so in a way they are more reliable than ultrasonic sensors due to the fact a insect like a moth could trigger the alarm if it was in the vehicles interior.
I would recommend adding a glass break sensor if your only sensor is a dual zone proximity. Due to the proximity sensor not triggering on pressure. With dual zone sensors they rely on the disturbance field being broken before the alarm will trigger. This means the window can be cracked and the alarm wouldn't sound. As always the glass break sensor is only as good as the installer and it should always be set up correctly after installation to remain reliable.