BMW 1 Series Rear Parking Sensors Chemlsford
3 April 2019 | Admin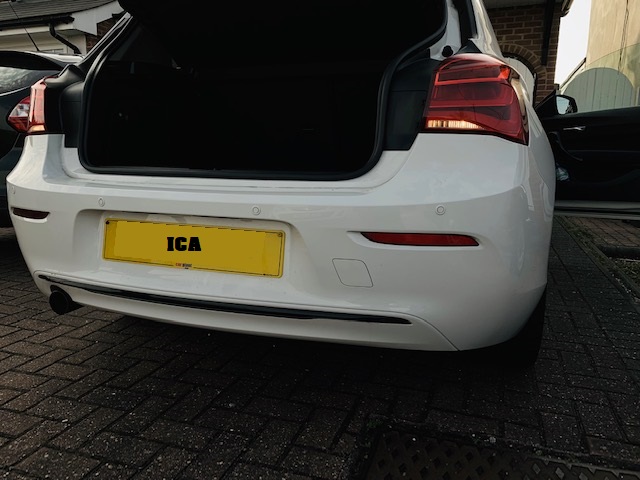 This BMW 1 series was fairly new 2018 model but still required rear parking sensors. That was no problem for In Car Advancements, we fitted our entry level colour matched rear parking sensor kit. These are very neat in size at only 20mm, they are raised from the bumper by less than 1mm meaning they are ultra sleek / neat once installed. The moment the reverse gear is selected you will get a confirmation bleep to let you know the sensors have become active / working. These sensors detect objects up to 1.5 meters away giving you more than enough warning of any objects that are within your reversing path.
These sensors were professionally colour matched to the exact vehicles colour ( BMW Alpine White ) meaning once they are installed you have a very high quality finish backed with our 3 year warranty for piece of mind. We get our sensors professionally painted at a bodyshop meaning they are always the best match to your vehicles paintwork. As you can see from the image above these sensors looked fantastic on this vehicle.
The sensors we use are very high quality unlike other companies that use the cheap sensors from the popular internet sites. This is why we have complete faith in our fitting ability and product reliability to offer our excellent 3 year warranty on all sensors. why not contact In Car Advancements today to get some parking sensors fitted?