Autowatch Ghost VS Pandora Mini BT
16 April 2020 | Admin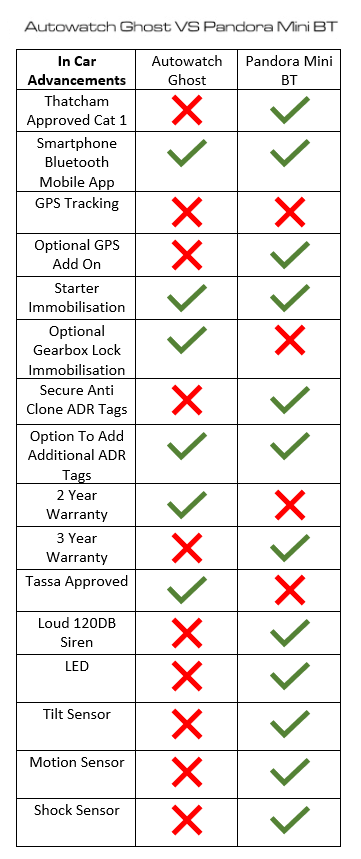 Many customers are unsure of the difference between an Autowatch Ghost and the Pandora Mini BT. To put it in the most simple terms an Autowatch Ghost is an Immobiliser ONLY, the confusion comes from car forum owners and facebook groups calling it a Ghost Alarm. The Autowatch Ghost is NOT an alarm it is an immobiliser that uses the original vehicle interior buttons to disarm the system. The Pandora Mini BT is a FULL alarm and immobiliser. However on most vehicles the Pandora doesn't use the vehicles interior buttons to disarm, it uses an ADR tag which hangs from the vehicles keys.
When getting vehicle security installed you need to think about the features and requirements of what you need. This is why the table above helps you choose correctly. For example having a Ghost installed makes certain vehicles very hard to steal but if you have a BMW 3 / 4 series which are getting targeted for multimedia theft ( trims , screen, radio ) an Autowatch Ghost won't make a sound / alert you to the vehicle being attacked. This is why the Pandora Mini BT would be perfect for this vehicle by instantly triggering the alarm when a window is smashed.
The Pandora Mini also comes feature packed with a full shock sensor, tilt sensor and motion sensor and a loud 120 db siren. Also backed by the Pandora 3 year warranty. If you want to add GPS tracking to the Pandora Mini thats not a problem, simply add the additional Pandora Eye. With the Pandora alarm also being a Thatcham Approved Cat 1 this also is a major plus.
The Autowatch Ghost has recently been approved by Tassa which is a new group created by an old member of Thatcham ( Mike Briggs ). Some insurance companies are already onboard asking for vehicle owners to get the Autowatch Ghost installed before they will issue insurance. Autowatch have also created a money back guarantee if your vehicle is stolen however there are a few terms and conditions to this.
View both products here