Ford Focus RS MK2 Pandora Light Pro
19 June 2019 | Admin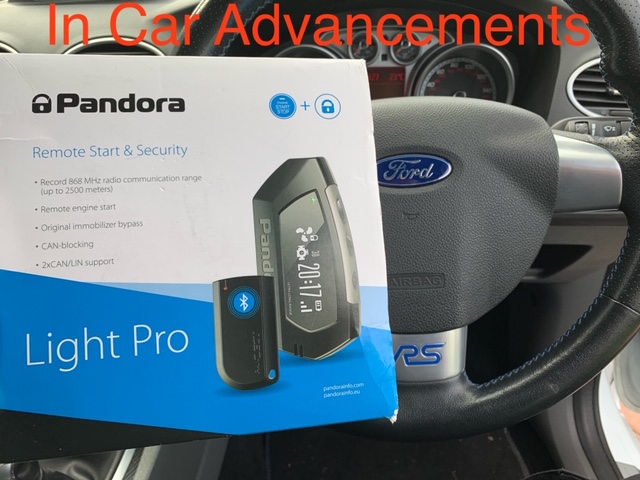 The Ford Focus RS MK2 is still as popular with the thieves stealing these on a daily basis. This customer wanted excellent protection and the Pandora Light Pro offers everything needed to keep your vehicle protected and secured. This system offers protection for your main entry points such as doors, boot, bonnet. The customer also added the dual zone proximity sensor which means the alarm will chirp if someone walks up to the drivers or passengers window glass. It will alert you up to 1 mile away via the OLED remote control if the dual zone additional sensor or another zone has triggered the system. The Light Pro also has onboard sensors such as the dual zone shock sensor, tilt sensor, and motion sensor.
We configured the system to also feature anti hijack this means if the secure ADR tag leaves the vehicles interior while driving the anti hijack will start. Meaning the indicators will start flashing along with the siren chirping once every second. The chirps will become faster and after 30 seconds the engine will be fully immobilised / shut down offering total security. Once the secure ADR tag is back within range the vehicle will start as per normal.
The system features a loud 120 siren which sounds in the event of an attack. The Pandora remote also alerts of you of status of your vehicle at any time ( providing ) your within range of up to 1 mile. This system has the ability to also let you know if your car is locked / unlocked. The system also features full immobilisation meaning if a thief was planning to steal the vehicle by key scanning or OBD key cloning they won't be able to get the vehicle started.
The MK2 Focus RS and ST models are still a large target in the Essex area. Make sure you get your vehicle secured before it's to late. Call Dave on 07525 068291 or take a look at our Pandora range of alarm systems.