Clifford Alarms

The science of vehicle security, Clifford have been on the market for well over 20 years. Providing the latest forms of vehicle security which has rock solid reliability. Clifford has provided Thatcham Cat 1 alarms and also a Thatcham approved Can-Bus system which offers excellent security. The Clifford 650 MK2 offers dual immobilisation and dual zone proximity as standard, meaning the system will chirp if it detects movement by the drivers or passenger window glass.
Clifford 650 MK2 ( Thatcham Cat 1 )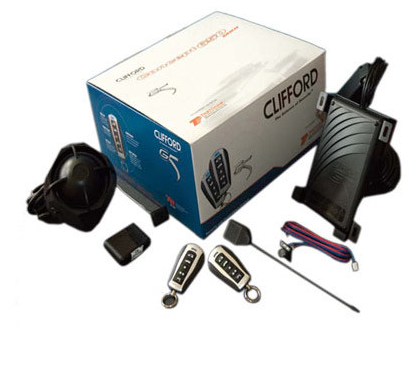 This is one of the most advanced security systems in the world from Clifford that will wrap your vehicle in protection, with the most sophisticated electronic technologies available today, including the dual-zone vibration/impact sensor and data controlled battery backup siren. This state-of-the-art system also offers in-demand convenience feature like keyless entry.
Thatcham Approved (Category 1)

Dual-Circuit Immobiliser

Includes two new style 5-button Transmitters

On-board door locking relays with double pulse lock/unlock capability

BlackJax Anti-Carjacking System

Dual-Zone Proximity Sensor

SSPS5 Battery Backup Siren with Data-link and 6-tone capability

Dome Light Supervision

3 Programmable Aux channel outputs

Total Closure capability

Normally Closed Input

Programming upgrades (grid jump)

Programming upgrades (PIN free programming, grid jump, etc)
Clifford Can-Bus Alarm ( Thatcham Cat 2>1 )
The Clifford Can-Bus Alarm works perfectly with the original vehicles remote control. Most Can-Bus alarms work with many vehicles made after 2005. Meaning Thatcham alarms can be fitted which work very well with the original locking on the vehicle. The Clifford Can-Bus alarm features a bright blue LED and the ability to add on dual zone proximity and OBD port immobilisation.
Door, Boot, Bonnet and Ignition Protection

Ultrasonics Interior Movement Sensor ( Not Fitted with Dual Zone )

Battery Back Up Siren

Superbright LED

Flashes indicators

Dual Zone Proximity ( Optional Add On )

Horn Honk Output ( Optional Extra )

OBD Port Immobiliser ( Optional Add On )

AUX Output

Optional Sensor Input (MUX) Port
We supply and fit Clifford Car Alarms in Essex and all local area's such as…. Basildon, Brentwood, Romford, Hornchurch, Barking, Dagenham, Ilford, Thurrock, South Ockenden, Billericay, Basildon, Grays, Southend, Southwoodham ferrers, Chelmsford.