Immobilisers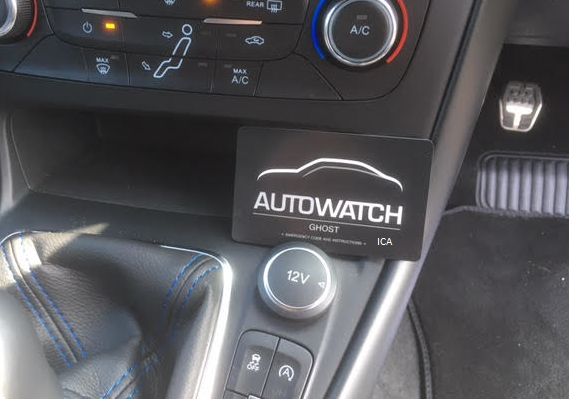 In Car Advancements are the approved main supplier of the Autowatch Ghost product in Essex. Only very few companies are allowed to sell the Ghost and we are one of the selected few. We supply and fit the Autowatch Ghost all over the local Essex area. The Ghost has taken the market by storm with it's ultra secure method of immobilising the vehicle via Can-Bus rather than the normal method of cutting and joining wires. The best feature is the Ghost using the dashboard lights such as ( Engine light, Indicator lights ) to allow the user to disarm the system and carry out programming if required. The advantage of this method is the thief won't be able to trace back any wires from an LED for example. Meaning once the Ghost is installed the chances of a thief finding it are 1 in 100. The device is ultra small and when it is taped into a vehicles loom you wouldn't know anything has been installed.
The Autowatch Ghost is disarmed be entering a sequance of buttons via the steering wheel or window switches when entering the vehicle meaning unless you know the button pin sequence you won't be able to get the vehicle started. If you have an iPhone you can also download the Autowatch app from the Apple store to pair up with the Ghost via Bluetooth. Once the iPhone is paired you can simply get into the vehicle and the Ghost will automatically disarm.
The Ghost protects your car from key-cloning, hacking, and even key theft. The only way a thief could take a Ghost protected car is by physically towing it away, even then they will never be able to drive it! The Ghost has no key-fobs or LED indications to give away its location. The Ghost uses the buttons in your vehicle such as those on the steering wheel, door panels or centre console, to allow you to make a unique, changeable, PIN code sequence that must first be entered before you can drive your car. Just like your credit card but you can make your car PIN even safer by making it up to 20 presses long.
Latest Ghost Version Start / stop compatible.

Ability to turn off start / stop technology on some vehicles.

iPhone compatible.

Secure override if required.

No wires are cut.

Even if a key is cloned vehicle won't start.

Can't be found.

Anti Hi-Jack mode.
Please contact us to find out if your vehicle is compatible with the Autowatch Ghost.
We supply and fit Autowatch Ghost in Essex and all local area's such as…. Basildon, Brentwood, Romford, Hornchurch, Barking, Dagenham, Ilford, Thurrock, South Ockenden, Billericay, Basildon, Grays, Southend, Southwoodham ferrers, Chelmsford.